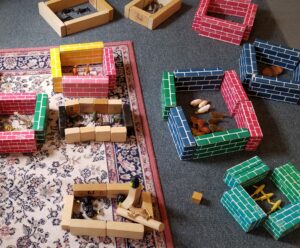 We believe that religious education is important in our pluralistic community. Our children will meet people of different faiths and of no faith, prompting the question, "Where does our family go to church?" Because we are a small church, there is a flexibility built into this program, which enables teachers, parents and minister to respond to the religious needs and questions of families in this diverse metropolitan culture.
Every Sunday at 10:00 A.M. some families attend Early Church, which is conducted in the minister's study. They participate in all aspects of this worship service, from bell to benediction. The lesson is prepared in the form of a story. We have had stories from Dante's Divine Comedy, Bunyan's Pilgrim's Progress, Christina of Markyate and her illuminated psalter, and Doubting Thomas among the Hindus and Buddhists of India, among others. Children take the collection in this service, which at Christmas time is given to a family-oriented charitable organization chosen by their group.
Child care is provided for the very young during the worship service. All other children attend the first part of Morning Prayer with their teachers. In addition to a periodic children's sermon, they will hear anthems based on the psalms that will be explored in their classes. The Christmas Pageant, Easter morning songfest, the Sunday School Picnic and other events are enjoyed each year by the entire congregation.
The Youth Group for grades 6, 7, and 8 determines its own activities with the guidance of the minister and youth group leader. They plan educational, recreational and social activities for each year. These may include field trips to historical church sites, seeing and discussing movies, service projects and participating in the worship life of the congregation. Decorating the Parish Hall for Christmas after caroling to neighborhood shut-ins, burning the gree
ns on Twelfth Night, cooking the Easter breakfast, and making ice cream at the Sunday School picnic are traditional youth group activities.