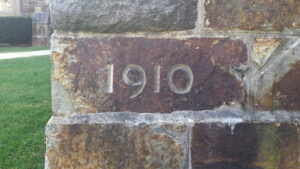 First Church in Chestnut Hill
History[1]
1861       First Church gathered in the Chestnut Hill Chapel, dedicated October 2
1909       Corporate Organization, December 22
1910       First Church corner stone laid at 26 Suffolk Road, April 10
1911        First Church Dedication, January 1
1919       Thanksgiving Food and Flower Sale
1929       Women's Alliance formed (presidents, beginning in 1938,
maintained in Alliance files)
1961       One Hundredth Anniversary of the gathering of the First Church
in Chestnut Hill in the Chestnut Hill Chapel
1970       Rev. Joseph A. Bassett, installed March 1
1971       Samuel Adams becomes church organist
1986       125th Anniversary Celebration of the First Church in Chestnut Hill 1861-1986, October 5
1989       Church Reading Group started
1989       Wissinger Organ Installation, June
1990       Wissinger Organ Celebration, May
1995       Celebration of Joe Bassett's 25 years of ministry to the First Church in Chestnut Hill
2001       Church website created by Bill Powell
2007       Joe Bassett retires; celebration of his 38 years as minister of the First Church in Chestnut Hill
Rosemarie Smurzynski chosen by Transition Team as Interim Minister, May 3.  (2007-2009)
2008       Joseph Bassett installed as Minister Emeritus, May 18
2009       Reception honoring Sam Adam's 35 years at FCCH, April 5
Barbara Morss Marshall Bequest received (eulogy and trust document in Standing Committee meeting minutes file, 2009)
2010       Celebration on May 23, 2010 of the Centennial of the Laying of the Cornerstone of the building on Suffolk Rd. April 10, 1910
100 replacement hymnals acquired and Ellen Saltonstall book plates put in place
Installation of Rev. Mark J.T. Caggiano, April 25
2011       Coffee Hour:  With the hospitality time being held weekly instead on monthly since 2008, Dorothy Baldini's suggestions accepted to
change the name from "bouillon hour" to "coffee hour," and to assign Sundays at the beginning of the year, September 11
Sesquicentennial Celebration of the Gathering of the Church in the Chestnut Hill Chapel, 10/2/11, dedication October 2, 1861, October 2
Taizé Service began to be held periodically
2012       Vote to dissolve the Chestnut Hill Alliance and form the Outreach Coordinating Committee, January 23
Outreach Coordinating Committee established, January 23
Opus Dei expansion on Suffolk Road
                John M. Morss 1996 Trust Bequest received
                Decision to print 250 bulletins instead of 350, February 12
Original building plans delivered to church from John Morss, February 28
                Archive Committee established, June 22
                Welcome Card created and put in pews, December 12
2013       Joan Hunt resigned as Director of Religious Education (DRE) in January, effective in June.  She started in 1996.
A gathering was held to thank her for her many efforts and her loving presence for many years.
                Kristin Wrobleski hired as new DRE, September 2013
2014       Directory, February 2014 – first FCCH Directory published by JTC Printing and distributed
                Wissinger Organ tuned/voiced; first tuning since we received the organ 20 years ago
                Evening Service (Gathering @ Chestnut Hill) begun, gathering in the Parish Hall twice a month followed by supper, November
        Parish Service Committee formed
        Christmas Eve and Easter Eve Services: relevance discussed as a result of low attendance
         Parish Service Committee established
2014       Administrator Lisa Piel replaced Bulletin Editor Jay Howland, October 1
2015       New church website goes live, January 15
 
Ministers –  (Peggy Richardson's history from 1861 in Clerk's file)
1969-2007          Joseph Alden Bassett
Called May 3, 2009
Installation, March 1, 1970
Celebration of 25 years of ministry, September 24, 1995
Celebration of 38 years of ministry and good wishes for retirement, June 3, 2007
Minister Emeritus, September, 2008
2007-2009        Rosemarie Smurzynski, Interim Minister
2009-                 Mark Caggiano
Called September 13, 2009
Installation, April 25, 2010
Prayer Book
King's  Chapel Prayer Book – brought with first members of congregation
Revised:  1897, 1908, 1923
By-Laws
Revisions:  1911, 1962, 1972, 2015-16
To view the bylaws, please clink this link:  FCCH Bylaws with Proposed Changes 2016
Memorial File of Services
John Morss, February 29, 2012
Caroline Thompson, January 28, 2012
George Maliff, September 2013
Nan St. Goar, October 10, 2014
Lewis Dabney, September 27, 2014
Constance Austin, April 11. 2015
Jessie Williams, April 18, 2015
Dorothy Baldini, July 17, 2015
Anita Vance, April 23, 2016
—prepared by Molly Batchelder, Clerk, [2]  2014
[1].  History of the First Church in Chestnut Hill, Newton Massachusetts 1861-1986, by Elmer Osgood Cappers (published by FCCH 1986) provides greater detail with regard to the early history of the church.
[2].  Past and current practice indicate that the primary duty of the Clerk is to record the minutes of Standing Committee meetings and the Annual Meeting, as well as keeping track of the details that are related to those meetings.  It is therefore important that everything that goes on in the church for which there should be an ongoing record be brought up at those meetings and recorded in the minutes: decisions made, votes taken, significant occurrences in church life and all those changes that, though they may not require a vote, might be interesting or necessary to refer to at a future time.  All church records, documents, and correspondence should be retained and filed in the Archives by the Archive Committee.  The Archive Committee (currently, Carol Lohe, chair; Susan Welch; and Molly Batchelder) reorganized the Archive, beginning work in 2009.  It will be important that a system be established to ensure that everyone (the Minister, the Sexton, the Treasurer, and committee chairs) pass important documents along to the clerk or the Archive Committee.